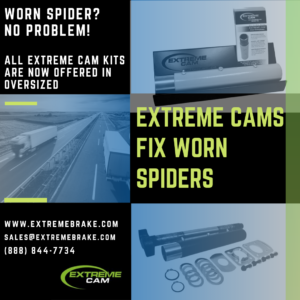 Worn Spider? No Problem!
All Extreme Cam s-cam / bushing kits are now offered in an oversized option!
Replace the letter "A" in your current Extreme Cam part number with the letter "O" to purchase the oversized version of the same product. For example, Extreme kits C1311A-L and C1311A-R are offered in C1311O-L and C1311O-R.
The Extreme Cam oversized products are machined approximately .015″ larger for the case of a worn spider. Options for a more severely worn spider and special order dimensions are also available upon request.
Give our customer service team a call at (888) 844-7734 or email us at sales@extremebrake.com today!