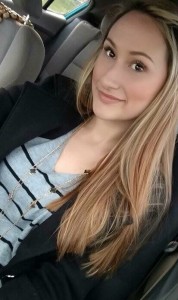 Here at Extreme Brake Integration we really appreciate our hard working employees, so we like to let you peek behind the scenes to learn more about what goes on in the Extreme Brake office on a daily basis, and get to know your favorite employees a little better.
Kodi McClamrock is one of our hardest working (and youngest!) employees. She is officially our Daily Operations assistant, and helps keep things running smoothly for the factory and for the ordering process. But she has a hand in just about everything that goes on in the Extreme Brake office. From helping assist customers with sizing, to helping our marketing team stuff envelopes, to developing strategies to make all of our processes smoother. She is a Multi Tasking Queen, and could probably run the company by herself. She's our go to for new projects, organization, and is our resident foodie expert.
We thought we'd sit down with her and have her answer a few questions.
1. What is a normal day like being the Daily Operations Assistant for Extreme Brake? 
A normal day for a Daily Operations Assistant is anything but normal! Every day is different and always exciting. I assist customers with all of their Extreme Cam ordering needs, I assist the marketing team with whatever they need, as well as deal with shipping from time to time.
2. What are some of the most difficult challenges you face on a daily basis?
The most challenging thing I face every day is trying to stay focused when there is just so much to do!
3. What is the most rewarding part of your job?
The most rewarding part of my job is to help our customers order as well as assisting them with any issue they may have. It's interesting how much you can learn from the people you do business with. I especially love to talk to our customers up north this time of year, because while I have never seen snow – and I don't plan on it, it's nice to hear about it.. from hot sunny Florida.
4. What do you enjoy doing when you're not at work?
When I am not working I'm usually trying to catch up on school and spend time with my amazing and sassy 18 month daughter.
5. How do you like your coffee?
From Starbucks. I never stick to one drink, I'll try just about anything that's on the menu.