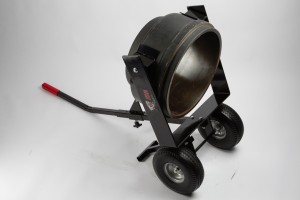 Today we'd like to share some FAQs about the Extreme Drum Caddy! These are some of the most commonly asked questions that we get from  customers on the Extreme Drum Caddy.
1. What is the Extreme Drum Caddy?
The Extreme Drum Caddy is a device that provides the ability to remove, transport, and install brake drums with ease.
2. How can it benefit my mechanics?
Heavy duty brake drums weigh approximately 120lbs and are often carried long distances, which can run the risk of severe back or hand injuries from heavy lifting.
3. What makes the Extreme Drum Caddy easy to use for transporting?
By pulling on the extendable handle, the drum is easily rocked back onto 10" pneumatic tires and then can be transported, even over rough surfaces and gravel yards.
4. How does it help with the installation and removal of brake drums?
The Extreme Drum Caddy can be seated directly onto a brake drum while still on the axles for direct removal off the wheel hub. A swivel ring is used to grip the drum rim which keeps it positioned perpendicular to the ground. The same swivel ring is natural balanced to maintain the drum flush with the wheel hub for easy alignment.
5. How can I purchase the Extreme Drum Caddy?
Extreme Brake Integration has an extensive network of distributors located throughout the United States and Canada.
View contact information for our existing distributors through our Distributor Map or Distributor Directory.
If your preferred distributor is not listed, please contact us so that we can begin stocking our products at your preferred location, as we are always pleased to add fleet and customer recommended distributors to our network. We will work with you to ensure that our products are available at your preferred store.
More questions? Feel free to give us a call at 888-844-7734 or send us an email today!