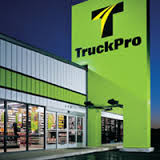 Extreme Brake Integration, Inc. is excited to welcome another new store that will begin carrying the Extreme Cam product line. Welcome to TruckPro of Springdale, Arkansas! We are excited to work with another one of TruckPro's 150 stores nationwide.
TruckPro says "…our goal was to be better than the next guy down the street or, even the next county over. It's all about trust, relationships, parts on the shelf and reliable delivery—do the right things and you've earned a customer for life." With a mission statement like that, we're so proud that they're carrying our Extreme Cam System, because we feel the same way about our Extreme Cam / S-Cam Bushing Kits. Welcome to another TruckPro!
Need to find your nearest distributor? View our Distributor Map.